I remember years ago being exposed to a business plan. In essence I thought that I was going to listen to a 'con job.'  I have no idea where this came from, but the first thing that came out of my mouth was, "Is this a pyramid?"  Where that came from, I have no idea.  It's as if I was programmed to say something like that.  Years later, now that I am involved in a business model that offers its concepts directly word of mouth, I hear the same thing again and again.  It's as if people are programmed to say, "Is this a pyramid?"  These responses are influenced over time, although word of mouth has been proven to be the most effective way to share important information.  People listen to friends that they trust.  Just ask yourself, "How did you find your mechanic, dentist, doctor, church, or latest movie or restaurant you've visited?"  The majority would say easily that there is more credibility in word of mouth recommendations than a billboard that they drove past in the night or an icon that sprang up on the internet. There's even a T.V. remote control feature that returns the watcher to the previous channel so that when a commercial interrupts a program the watcher just changes the channel, so T.V. commercial effectiveness is even questionable.  With all that said, let me tell you about a real con job.  In fact, it's not just a con job.  It's 'The Biggest Con The World Has Never Seen.' For starters click on these two links just to warm up.
August 28th, 2018: 'The richest 1 percent now owns more of the country's wealth than at any time in the past 50 years.'
July 10th, 2017: 'The World is Now $217,000,000,000,000 in Debt and the Global Elite Like It That Way.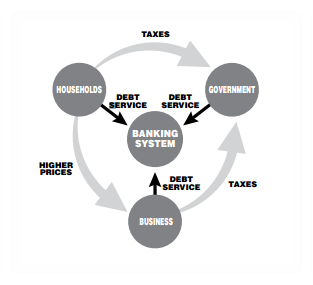 Does this make sense?  This financial manipulation benefiting from global and a national debt load could not be possible unless the masses were influenced by a combined effort from our national institutions.  This influence isn't new but rather an effort that began and has continued throughout the 20th century.  It's not that complicated to figure out that someone's debt is someone else's profit.  Unfortunately, something even greater is at stake in this con and that is the fact that when a person owes a debt they've lost a percentage of their freedom.  Is this a sophisticated system that incentivizes a profit for a few or is there a more sinister motive?
In order to succeed with, 'The Biggest Con The World Has Never Seen,' the population must be seduced into consumption and have their thinking influenced.  As recently as the 1950's households paid cash for consumption and up to 50 % equity in their home purchases.  Only three generations ago had significant savings to retire on. 
Propaganda that influences the population begins with the media.  News channels today have evolved from important events that have immediate effect on you to thoughts designed to influence thinking.  Today's news is very carefully scripted by an editorial pundit whose agenda is wrapped around an ideology.  The news anchor today is required to have some physically appealing features and read a teleprompter.  They are paid big money for this. In most cases news involves a politically opinionated script.  Politics must be central.  A divided nation is one that could be more readily influenced.  Interestingly, all channels constantly carry the same news.  The news of the day distracts, disturbs, and disrupts the average intellect.  Jacques Ellul writes, "the structure of present-day society places the individual where he is most easily reached by propaganda… In reality propaganda cannot exist without using these mass media."   Other media must be created to distract from reality so a new concept called 'social media' was invented.  The thinking here is that if your face is constantly checking your smart phone for Facebook, Instagram, Twitter, or Linkedin someone or something else is always able to direct your thoughts.  This is very evident in the next generations as even laws are being written to avoid traffic accidents from mindless adolescents and adults as they walk with their faces glued to their phones while they are wandering into a street. 
To pull off 'The Biggest Con The World Had Never Seen,' something of this magnitude would require programming that influences opinion from every major institution.  Unfortunately, even our educational institutions have gone beyond institutions of learning. They are now creating a foundation of ideology.  This could not have been done without a long term agenda.  One only has to look back to the turn of the century to find when the educational institutions began to find alternative uses.  The original classical liberal education gradually gave way.  John Dewey and William James both came from psychological backgrounds where they learned how the German system was used for social programming.  Samuel L. Blumenfeld describes this, "While Thorndike developed and formulated the psychological basis for progressive education, John Dewey formulated its social aims… It was in 1896, that Dewey created the famous Laboratory School which was to be for his department… Dewey had wanted to test certain philosophical and psychological ideas in practical application with real live children."  Gradually, over time, those systems evolved way beyond educational information.  Institutions of higher learning today involve a significant amount of ideology.  As we will notice university faculty derive an abundance of its profit from the federal government as just about all institutions of higher learning are now 'Federally Funded.'  Unfortunately, someone's gain is another person's pain.  As would be expected, someone pays for the Federal Government (the people).  According to GoBankingRates, "Average outstanding student loan balance $31,646."  Best-selling author Orrin Woodward writes, "a University of Arizona study discovered that half of all graduates are still relying on their parents and other family members for financial help; two years after graduating."
Central planning is the basic underlying philosophy behind it all.  The population is led to believe that the so called 'experts' know way more about how to spend our hard earned tax dollars than the common folk do.  Instead of self-reliability the individual has given decision making power over to the state, where the 'experts reside.'   Politicians are now vested with spending our tax dollars, for our 'well-being' of course.  There's always more money that needs to be spent by central planners who are obviously more intellectually equipped to determine what's best for humanity, of course.  Author Gary North writes, "who is to say that bureaucrats really act as the representatives of consumers?  Isn't it a lot easier to believe that they act as representatives of their own best interest?  The goal is the same: an elite body of central planners will through scientific techniques, plan everyone else's life."
Central to all this is that if someone or something can get you to think their thoughts, they now control your thoughts.  There's a saying, "I was born at night, just not last night."  Well, here's a new one for you, "This con was born at night, just not last night."  Could all of this possibly be true?  As if it's the making of a good conspiracy mystery.   Best-selling author, and leadership expert, Orrin Woodward writes, "through controlling the political parties, media sources, and educational institutions, the state (with all its cronies) has poured out copious amounts of monetary misinformation into society.  The reason, of course, is to thoroughly confuse the exploited masses while discrediting those who detect the deceit."
Does anyone see a problem here?  This is not just a problem of great magnitudes that has engulfed our society.  This is 'The Biggest Con The World Has Never Seen.'  By design! How free with your time and money are you really?  Our freedoms are slowly being encroached upon.  And future generations are destined for an inheritance that they never expected.  Remember, I thought an idea describing a solution to this problem was a 'pyramid scheme.'  You know the one that essentially would have to spread by word of mouth, where the (this is too funny) guy on top makes all the money.  In fact, word of mouth is the only way a solution for this type of problem could be learned.  One couldn't grasp the magnitude of this problem through internet pop up ads or by driving by a bill board on a highway. 
Systems genius' with a greater purpose in mind decided to take a shot at 'The Biggest Con The World Has Never Seen.'  Why not use their genius for an entrepreneurial idea?  After all, the greatest business ideas of our time have solved the greatest problems.  They launched a business development out of North Carolina that uses an app that streams life changing information from the cloud to your smart phone.  Those entrepreneurs found a problem to solve, 'The Biggest Con The World Has Never Seen.'  Guess where the next big entrepreneurial solution will come from?  An App.  An App that provides solutions and spreads though a community of entrepreneurs that drives traffic to that App.  If you think that this idea is a pyramid just look at 'The Biggest Con the World Has Never Seen.'  This is a community of entrepreneurs concerned about freedom.  They have a purpose to make a difference, who are concerned about spreading the principles that will be required for those who want to break free from 'The Biggest Con The World Has Never Seen.' 
The 3 L's that everyone will need in the 21st century: 
Financial Literacy.

Leadership Engine.
Leverage Business Systems.
I was programmed to have a closed and skeptical mind when I first heard about this entrepreneurial idea, thinking that this was a pyramid.  I have since learned that it wasn't this idea that I should be worried about.  Look, yes, really look!  There's a problem that effects everyone: you, your job, your business, your community, your family and the next generations.  Who's for helping become the first million to drive traffic to a life changing App?  The time has come to take action and create a solution for 'The Biggest Con The World Has Never Seen."   God Bless, George Guzzardo