Unlike past times when the filament, assembly line, or the computer chip were discovered and revolutionized the times, today's solutions will come in unprecedented ways.   Today's solutions will come in the form of new information.  And unlike times past when one inventor discovered the answer, our current time requires a community of entrepreneurs.  There's a reason entrepreneur's will gather in Winston – Salem North Carolina on April 20th.  It will be about ideas to solve problems.  It's about as Peter Block writes in his book, 'Community,' "It's not that we gather for the sake of gathering. Or gathering to get to know each other.  We come together for an exchange of values and to experience how relatedness, gifts, learning, and generosity are valuable to community… With this expanded notion of action, we can bring visioning, problem solving, and clearly defined outcomes into the room."
With all the social media noise and negativity there's never been a more important time for a community whose message brings insight into solutions and will have global impact.  The answers that will be discovered today won't impact light or the speed of conductivity but will effect the very nature of how we live. The answers are staring us right in the eye.  Co - Founders of LIFE, Orrin Woodward and Chris Brady discovered the void that Financial literacy fills.  Financial literacy is simply not taught to the masses anywhere.  The solutions are effective but require genius to provide a program and a process that anyone can follow.  The entrepreneurial idea is a systematic approach that creates an incentive to spread the message.  The entrepreneurial idea about financial literacy opens the door for the pursuit of our dreams and the belief that we can have a better life.  We can choose to apply a program that will have a profound impact on people today that will effect our very freedoms tomorrow.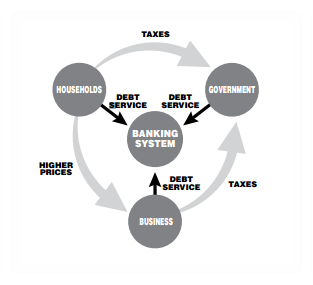 Unfortunately, those who stand to benefit from the financial ignorance of the masses also gain from from an agenda that spreads confusion through the populace.  The agenda that stands in the way is division. Unlike information about financial literacy that produces security and hope in a population there are those with ulterior motives who are rewarded for dividing a country through, class, race, and wealth redistribution.  Will the future of freedom be the ultimate casualty? 
An entrepreneur must identify the problem.  Anything that is taken against the will of another person is a freedom that is lost.  Former Hillsdale College President, George Roche writes in 'Free Markets Free Men,' "Bastiat warned that the temper of the French people to expect the government to be the solution of all their problems would not only fail to solve the problems, but would generate a bureaucracy penalizing material prosperity as well as freedom."  Is there a direct relation to what Bastiat said, "Communism is based systematic plunder" and the withholding of financial education that results from financial literacy?
If financial freedom provides individual security, prosperity, and is used to live out ones dreams, why would a nation not teach its people financially literacy?  Is financial manipulation the reason for not educating a population about financial literacy?  Who benefits from an unknowing population that is responsible for producing a combined (government, auto, student, credit card, and mortgage) debt of close to $30 Trillion that is sure to be passed on to the backs of the next several generations?   John Ralston Saul writes in 'The Unconscious Civilization', "Most of the intellectuals now involved in pushing this social formula are well – established university professors: political scientists, sociologists and economists…"    
One way for the financial systems to fill its coffers would be to keep the population distracted on "more important information."  For example, negative divisive media could accomplish this by diverting our thinking so it's directed toward their agenda.  How it works is to draw focus of our thoughts.  For example, is the '2nd Amendment,' the real problem when recent American Psychiatric Association studies reported, "Exposure to violence in the media—through television, the cinema, and the Internet—touches virtually every child.  Though often quoted, the statistics from the American Psychiatric Association bear repeating: The typical American child watches 28 hours of television a week, and by the age of 18 will have seen 16,000 simulated murders and 200,000 acts of violence.  Commercial television for children is 50 to 60 times more violent than prime-time pro - grams for adults, and some cartoons average more than 80 violent acts per hour."   This combined with the effort a news media designed to keep the population distracted, induce fear, and divided could easily keep driving the agenda about what people "need to think about." 
To keep a population in line, additional 'dumbing down is necessary' as past New York teacher of the year John Taylor Gotto writes, "Our form of compulsory schooling is an invention… Schools were designed by Horace Mann… of the University of Chicago and by Thorndyke of Columbia Teachers College… for scientific management of the population, through the application of formulas, formulaic human beings whose behavior can be predicted and controlled."  He describes some methods, "School had to train in consumption habits: listening to others, moving on a bell or horn signal without questioning, becoming impressionable – more accurately, gullible – in order to do well on tests."   
All the while losing its freedoms inch by inch, a population without any ideas about financial literacy lacks any ability to impede uncontrollable government spending.  The 'Washington Times' reports, "For example, few Americans are aware that, collectively, they shoulder more than $18 trillion in debt exposure from loans, loan guarantees and subsidized insurance provided by some 150 federal programs… This redistribution of taxpayers' money erodes the nation's entrepreneurial spirit, increases financial risk and fosters cronyism and corruption."
The very nature of how you think will determine your freedom.  Do you want someone else's agenda to govern what you think about?  It's time to question some of the paradigms that we've learned that simply don't apply to the 21st century anymore.  The 'Weekend of the Entrepreneurs' is not just about new ideas to solve old problems.  It's the need for ideas that recognize problems.  It's knowing that a self - directed education is the model of the future.  An outdated educational bureaucracy not only cannot keep up with the speed of the times, it has its own agenda.  James Montgomery Boice describes 'mindlessness' as the "inability or at least the unwillingness to look at what is happening around us in an analytical and critical way."  If you think a self - directed education is expensive, try ignorance.  For example, recognize that the media is not your friend.  It has its own agenda.  TURN IT OFF!  Let the 'Neilson's' ratings record you as a zero.  Surfing the internet is not a sure fire way to inform you either, as its myriad of informants is more likely to confuse you.  Flush it with your own media designed to educate, motive, inspire, and bring out your full potential.  Choose to use an alternate source of information.    
Recognize that money isn't just a tool for the elite's.  Of course money does not define happiness but we can learn the truth about money and how it can be used for positive.  Learn financial literacy.  Learn how to keep more of your money that's leaving you while at the same time using it to contribute to ideas about money that effects your purpose.  Yes, improving your financial literacy is directly proportional to your freedom, but it's also directly proportional to your purpose, like helping other causes or solving some of the glaring problems in society.  There's a movement of entrepreneurs that will come together.  They know the gravity of taking responsibility for focusing on their future.  They are aware of the decisions we make today will effect the freedoms of future generations.  Succeeding will require a degree of focus.  As Winston Churchill said, "I have only one purpose, the destruction of Hitler, and my life is much simplified thereby…"  There's a 'Weekend of the Entrepreneurs' where people believe that ideas will shape our world.  Come to Winston – Salem Carolina.  God Bless, George Guzzardo