Over the last twenty years a very subtle form of wealth transfer has taken place.  Over $213,000,000,000 trillion dollars in global wealth has been accumulated by financial institutions. Never before in the history of the world has a form of bondage been placed not only on the backs of the world's population, but will be passed on to future generations who are innocently receiving this devastating inheritance.  It comes in the form of consumer debt, mortgages, student loans, car loans, and credit cards.  Many of us have heard the T.V. credit card commercial, "don't leave home without it," but in this case, every time the alarm rings, remember that those future generations won't leave home without it either.

In other words, the biggest legal heist in the history of the world has taken place on our watch in the form of fractional reserve banking and no one even knows it's happening.  Interestingly, I found a quote shortly after writing this in Napoleon Hill's book, 'Think and Grow Rich,' published in 1937, "Stated in the words of a famous criminologist, "When people first come into contact with a crime, they abhor it.  If they remain in contact with crime for a time, they become accustomed to it, and endure it.  If they remain in contact with it long enough, they finally embrace it, and become influenced by it."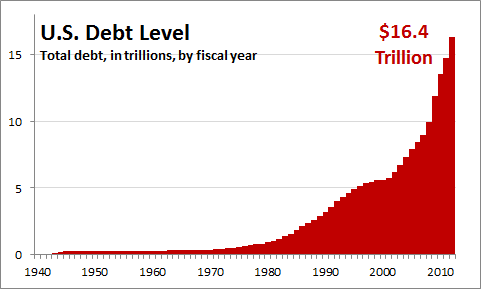 In short, our population has been seduced into paying a lifetime of consumer debt unknowingly, while sacrificing their ability to pursue and achieve their dreams.  Consumer debt can come in many unsuspecting forms.  Statistics show over 50% of all Mercedes and BMW's are leased, all because of the status it brings to drive one.  The status category continues to dominate a large part of the mindset of the American population.  This is the category of people who haven't been able to save more than they spend and are unwilling to delay gratification until they are able to purchase material goods with cash.  People in the status quadrant are typically defined as high achievers although their energy is siphoned off just like the poor in order to produce the cash payments for material goods.  In order to maintain the appearance of upper class lifestyle, those in the status quadrant find themselves living on the edge of a lifestyle precipice.  They are one downturn away from devastation.     
How does the other half live?  On the other side, according to GoBankingRates, half the US households have less than $500 in savings.  This portion of the population has mostly given up on their dreams and lives paycheck to paycheck.  This group is more stressed about what happens with an unexpected financial expense like an appliance or car problem.  Many marriages fall apart because of money problems.  According to a Citibank survey, 57% of divorced couples cited money problems as the primary reason for the demise of their marriage. 
According to the New York Federal Reserve, the largest component of household debt comes from mortgage balances, which stood at $8.69 Trillion.  However, it won't just be another house mortgage bubble that we will be trying to cope with in the future.  According to the 'Financial Times, student loans have grown 170% over the last 10 years, to a whopping $1.4 Trillion – more than car loans, or credit card debt.
As our population now becomes immersed in debt, there's a sense of exhaustion, not only from the grind of making payments, but the hopelessness that comes from never having a way to live a life of purpose that comes from the pursuit of our dreams.  This financial drain on the population comes at a time where the understanding of financial literacy is at an all - time low.  Christopher Lasch writes in, 'The Culture of Narcissism,' "Mass production demands the education of the masses; the masses must learn to behave like human beings in a mass production world… the tired worker, instead of attempting to change the conditions of his work, seeks renewal in brightening his immediate surroundings with new goods and services."  In order to drain the energy from a productive population, they must be kept distracted.  One of my favorite quotes comes from Orrin Woodward's Guinness breaking book, 'And Justice for All,' "Interestingly, through controlling the political parties, media sources, and educational institutions, the state (with its cronies) has poured out copious amounts of monetary misinformation into society.  The reason, of course, is to thoroughly confuse the exploited masses while discrediting those who detect the deceit."
This wealth transfer has occurred over the last forty years without a real awareness of what's happening.  $213,000,000,000 Trillion is an almost unfathomable amount.  It's clearly the biggest heist the world has ever seen and it comes on the backs of the populations whose harvested productive capacity is being drained.  It comes at the expense of our dreams, goals, passions, and purpose, as we exhaust ourselves feeding what leadership expert Orrin Woodward identifies as, 'The Financial Matrix,' "A system of control."  
An entrepreneur sees a solution in every problem.  In fact, some of the biggest entrepreneurs in history have been those who have solved the biggest problems.  Think about those names whom you recognize off the tip of your tongue, Gates, Jobs, Ford, Edison, Lincoln, Washington.  They solved the problems of their times.  Maybe an answer is staring us in the face.  What if the $213,000,000,000 in global debt could be converted into assets for those who learned financial literacy?  What if there was a system of education that could teach the masses how to get out of debt, and  create a business asset from teaching financial literacy?  What if that system of financial literacy was soooo simple that it could be described in a few words?  That solution could unleash a wave of dreamers such as Seth Goden says in his book, 'The Idea Virus?' 
It starts with a dream and a belief that you can have that dream.  It comes from a belief that you have been made for a purpose and that purpose wasn't to exhaust your energies into this massive machine that sucks the life out of us.  You make progress achieving your dreams when you recognize that money is a tool and its time it stops using us as its puppet.  It's time we used it as a tool for our purposes.  The vision is clear.  I can't tolerate seeing the next generation living in a dreamless land only to be forced to expend their life's energy to pay back our debts?  That $213,000,000,000 is not their bondage.  That $213,000,000,000 is just waiting for an entrepreneurial idea.  It's time to recognize that the single biggest wealth transfer in history in the form of consumer debt can actually be converted into an asset.  All's it takes to get free from this financial enslavement is a vision and a dream. A dream to get out of debt, make more money, and take advantage of the tax codes. The transfer begins by improving your 'Financial Fitness'.  It's an idea whose time has come.  It's time to prepare for the next biggest wealth transfer that the world has ever seen.  If your dream is big enough, what could happen if the massive global debt load is transferred back to the people?  Those assets that you accrue open the gates to dream of a better future again.  The next generation of dreamers is just around the corner.  There's an idea whose time has come.  It's time to convert the biggest wealth transfer in history back, back into our dreams and goals.  God Bless, George Guzzardo