Is it politically correct to say, "Merry Christmas?"  After hearing the leader of a new political administration say the words, "Merry Christmas" yesterday, it dawned on me, that, after eight years of a previous political administration (although supposedly of the Christian faith), those words were never uttered, either because he was not really a Christian or it was more important to show political correctness.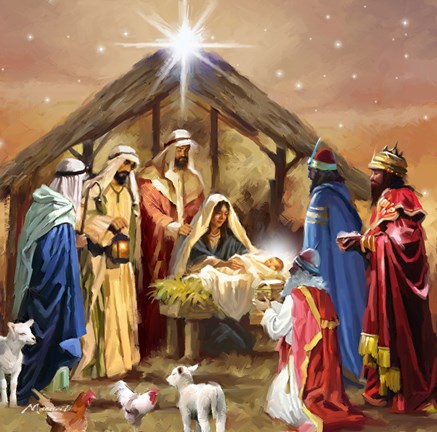 In our free society there are many seasons but when it comes to Christmas there might not be one more important to a Christian.  Although we live in a predominantly Christian culture, it seems like there's an ever growing discomfort when it comes to the Christian faith and their beliefs.  Not long ago the Christian Faith was oppressed more severely.  Before that Christians were hunted and persecuted in games.  Here's an excerpt from my new book, 'The Torch of Freedom,' "The bishop slipped around the corner. He stepped into the recess of a doorway, tucked back in a narrow passageway.  His breathing was heavy from the chase.  He glanced upward, grateful for the cloud cover that made the night even darker.  His heart pounded so loudly he could not discern if the footsteps he heard were pounding towards him – or away. He held his breath, though his lungs burned.  Please, he silently prayed, please keep me hidden."  Are today's trends toward oppressing the Christian faith advancing to a time when celebrating Christmas will need to be done in hiding?   
The trends toward oppressing the Christian faith began years ago when the teaching of Christianity was eliminated from our schools in favor of science's approved endorsement of evolution resulting in a wave of atheism.  However, what we often fail to understand is that atheism is also a belief and evolution is a theory.  The definition of 'Ism' is 'theory'.  The beliefs of an atheist are that they are without a God. They are 'a', (meaning = without) and 'theism,' (meaning = god).   What are the ramifications from that theory taught throughout our educational system over the years?   John Blanchard writes, "The person who believes in God and the person who does not believe in God do not merely disagree about God.  They disagree about the very character of the universe."  Could that philosophy be instrumental in the anti - Christmas sentiment across our country?  When I was in college, I was led to believe that atheism was based on the so called science of 'The Big Bang Theory.'  That led to the belief in evolution. But my common sense made it hard for me to believe that after hundreds of millions of years, I evolved from the very salamander I was dissecting in my Zoology class. 
Interestingly, the Bible never tries to defend the obvious or the scientific.  The facts remain that in science it's impossible to create something from nothing.  Paul writes something simple but so profound in Romans 1 verse 20: "For since the creation of the world God's invisible qualities = his eternal power and divine nature – have been clearly seen, being understood from what has been clearly made, so that people are without excuse."  Author Os Guiness goes further and says, "God's existence not only cannot be proved, it should not be attempted."   Could Paul provide an answer about our confusion when he writes in Romans verses 22, 23, "Although they claimed to be wise, they became fools and exchanged the glory of the immortal God for images made to look like a mortal human being and birds and animals and reptiles."
There is ample evidence why Christians celebrate the birth of God on Christmas.  This is not an exhaustive apologetic about the belief that Jesus the Son of God was born on Christmas but a few thoughts to provoke you to seek out answers for yourself. Another year has passed.  Time passes by so fast.  Is looking into the explanation about the birth of Christ too much to ask?  
Could Jesus be God?   Genesis written 1445 BC – 1404 BC. Genesis 1:26, "Let us make man in our image, according to our likeness."  About this, Philip Eveson says in his book, 'The Book of Origins,' "Not only does God give us truth about himself when referring to the creation of humans, but the verse teaches that we are, in certain respects, like God.  We are not gods, but there is something about us which makes us godlike." 
Where and when would God come?  Micah writes around 722 BC.  Micah 5:2, "But you, Bethlehem Ephrathah, though you are small among the clans of Judah, out of you will come for me one who will be ruler over Israel, whose origins are from of old, from ancient times."
Does the human race's fallen nature require a savior?  Genesis 22: 2, "Then God said, "Take your son, your only son, Isaac, whom you love, and go to the region of Moriah.  Sacrifice him there as a burnt offering on one of the mountains I will tell you about."   Genesis 22: 8, "Abraham answered, "God himself will provide the lamb for the burnt offering, my son, and the two of them were together."
How did the Magi (wise men) find Jesus?  Matthew 2: 1 -2, "After Jesus was born in Bethlehem in Judea, during the time of King Herod, Magi from the east came to Jerusalem and asked, "Where is the one who has been born king of the Jews?  We saw his star in the east and have come to worship him."  How did they know that the star represented the Messiah?  Astrology originated in Babylon and Jewish exiles like Daniel brought with him ancient manuscripts, copies that would have been studied.  Numbers (dated around 1405 BC) 24: 17, "I see him, but not now; I behold him, but not near.  A star will come out of Jacob; a scepter will rise out of Israel."
Are these ancient manuscripts a reliable source about Jesus Christ?  Archeological discoveries confirm their accuracy.  Discoveries of early papyri manuscripts (the John Ryland manuscript, A.D. 130; the Chester Beatty Papyri, A.D. 155; and the Bodmer Papyri II, A.D. 200).  New Testament scholar Robert Grant of the University of Chicago writes, "the gospels must be regarded as largely reliable witnesses to the life, death, and resurrection of Jesus."  Historian Will Durant writes, "After two centuries of Higher Criticism the outlines of the life, character, and teaching of Christ remain reasonably clear, and constitute the most fascinating feature in the history of Western man."
In today's age of, Atheism', 'New Age Modernism', 'Relativism', and the underlying theme that all values and beliefs are equal, the Bible makes it clear that all values, beliefs and truth claims are not equal. Josh McDowell writes, "How is Jesus different from other religious leaders?  Why don't the names of Buddha, Mohammed, Confucius offend people?  The reason is that these others didn't claim to be God, but Jesus did."  If you were violently opposed to the truth wouldn't it make sense to create chaos, strife, and conflict? Paul writes in Ephesians 6: 12, "For our struggle is not against flesh and blood, but against the rulers, against the authorities, against the powers of this dark world and against the spiritual forces of evil in the heavenly realms."
This year, when you see the decorations and see that baby in the manger, what do you really see?  Just how cute he is surrounded by the animals and the shepherds?  Luke 1: 30, "But the angel said to her, "Do not be afraid, Mary; you have found favor with God."  Dated 739 – 686 B.C., Isaiah 7:14, "Therefore the Lord himself will give you a sign: The virgin will conceive and give birth to a son, and will call him Immanuel (God with us). 
Would you have loved us, the unlovable, so much that you would give your son to be a sacrifice to any of us who believe?  As John 1: 36 writes, "When he saw Jesus passing by, he said, "Look, the Lamb of God."  Will this year be the year that the new born baby in the manger will take back the real meaning in the midst of all the conflict and chaos?  Maybe it's time to take a closer look.  Not a look at the head knowledge behind the birth of Jesus.  The answer is in the heart.  The heart and the soul of love is what John 3:16 writes what it's really all about.  "For God so loved the world that he gave his one and only Son, that whoever believes in him shall not perish but have eternal life."  Merry Christmas, George Guzzardo